This shop has been compensated by Collective Bias, Inc. and its advertiser. All opinions are mine alone. #GoldfishGameTime #CollectiveBias
Get inspired with these boredom busters! Engage kids in fun & easy games that boost skills and require little-to-no prep work.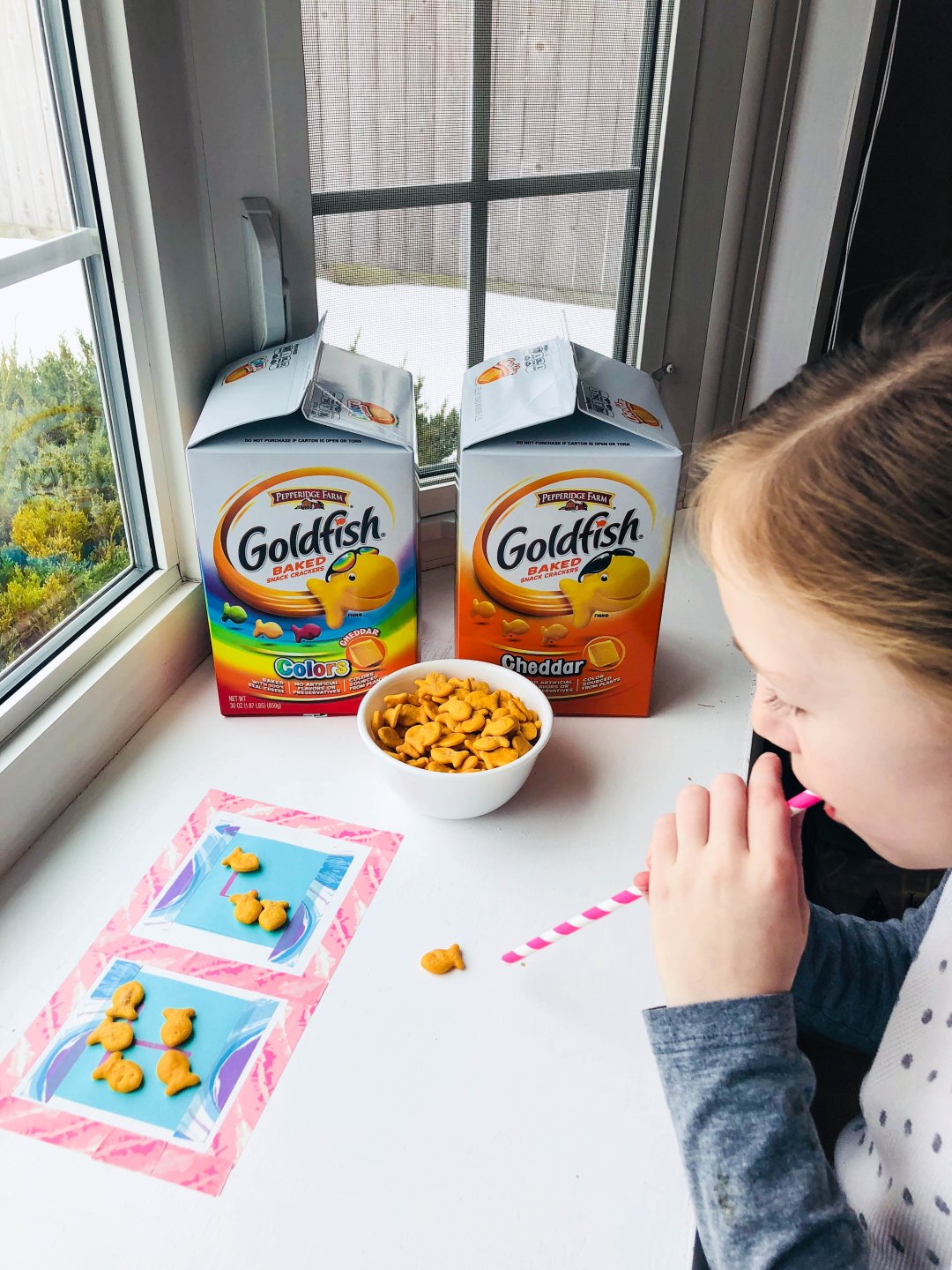 Click on this image to shop for Pepperidge Farm® Goldfish® crackers!
Bored kids no more– stop by Walmart to grab a Pepperidge Farm® Goldfish® crackers Cheddar 30 oz. Carton, for fun games to play on rainy days, outdoor playdates, or anytime!
I have a *very* active eight-year-old. And she's always been that way. Isn't it funny how those personalities are there from the beginning? As a toddler, she was always on the move, and these days she loves filling her weekends with activities, outdoor exploration, and plenty of questions about the world around her.
I've learned to roll with it. As a former teacher, I know the best way to support an active child is to give them plenty of outlets for their boundless enthusiasm and energy. So when the days get long, I'll set up some quick & easy games or "challenges" for fun. And because learning is always happening, I'll throw in some Math & Science facts or physical activity for a bonus.
Goldfish crackers are a staple in our household, and I love to use them as game pieces. My daughter thinks it's super fun to use Goldfish crackers in games, and snacks on a bowl of them throughout. Those fun little crackers bring a smile to everyone's face! For additional game inspiration, check out this site!
Game #1: "Get Moving Challenge"
This is a fun physical challenge to do indoors or out. I listed out a few sets of activities to get moving, and my daughter loved trying them out. We included "free style dance", as well as a Goldfish cracker toss.
Game #2: "Hands-Free True/False Game"
This one was fun to watch and play! I set up True/False spaces with tape, and read off factual statements. You could use grade-appropriate material or just make up fun/funny ones ("Animals play card games on the weekends"). The kids blow the Goldfish crackers into the right spot. You could make it extra challenging by having them keep their hands behind their backs (holding straw with only their mouth), or even timing it.
Game #3: "Math Madness Match-Up"
This one was perfect for practicing math facts, so a win for parents & kids! I wrote out multiplication facts on popsicle sticks, and had my daughter match them up. Some were tougher than others, so she was able to use a grouping technique (wipe board & Goldfish crackers) to solve for the answer. Great puzzle for brushing up on those math facts!
Hope this list inspires you to try out your own Goldfish cracker game challenges at home! It's easy to set-up a quick game that will keep the kids busy and actively learning!
I picked up the Pepperidge Farm® Goldfish® crackers Cheddar 30 oz. Carton and Pepperidge Farm® Goldfish® crackers Colors 30 oz. Carton for these games. Right now, they're on rollback for $6.46, in-store only.
Grab your Goldfish crackers & have some fun today ! I'd love to know, which game would your kiddos like to play?