This shop has been compensated by Collective Bias, Inc. and its advertiser. All opinions are mine alone. #BigelowTea #TeaProudly #CollectiveBias
Who has time to be sick? Not you! Check out 5 ways busy moms stay well, even during the colder seasons. Find the tips & tricks that work best for you.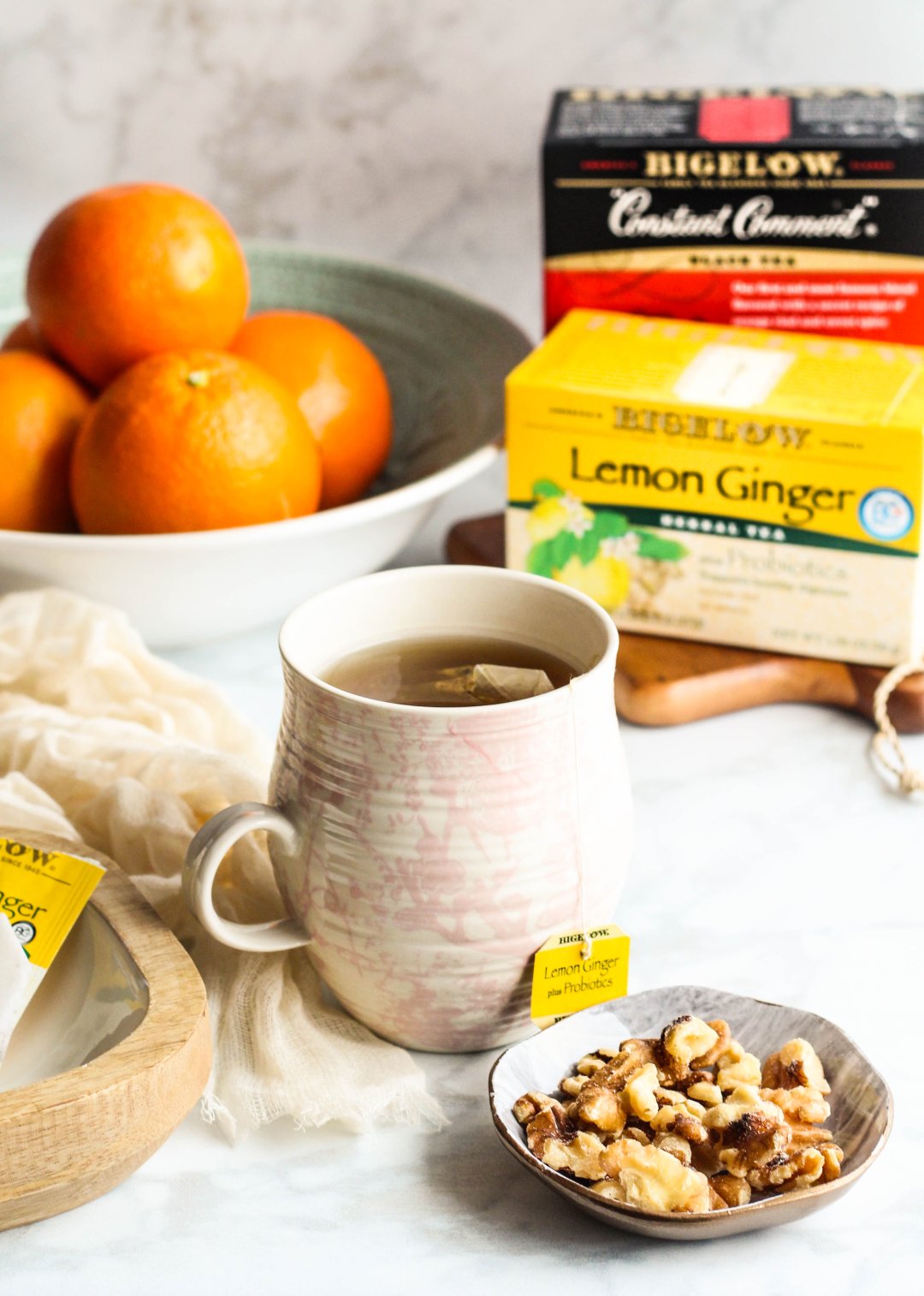 We're celebrating "Hot Tea Month" for January, and a couple of my favorite Bigelow Teas are Constant Comment and Lemon Ginger Probiotics. Both are full of flavor & I enjoy them with a drizzle of sweetener. Constant Comment has been a family favorite for years, and is just the thing for warming you up during the cold, winter months.
Honestly though, this time of year can feel like an uphill battle. You try to get back into your routine after the holidays, and it can be a struggle. One kid gets a cold, which takes over the whole family. Between shorter daylight hours and less time outside (hello wind chill!) it's super easy to get bogged down and feel sluggish.
But we're busy moms, and we don't have time for that. We need the energy to live our lives and be there for our families. Luckily, there are a few tricks to feeling good and more energized, even in the cold, winter months. Moms who prioritize their health and wellness during this time, know that taking care of yourself is key to staying ahead of it.
Let's talk wellness, and get you back to feeling amazing…
Fuel Up. What you put in your body relates directly to how you feel. Busy moms know that they need to fuel up for long days with kids, a job, and a household to run. Aim for meals/snacks with protein & fiber, and whole foods overall. Foods with wholesome ingredients send your energy through the roof. I love to combine a protein-filled snack with a hot cup of my favorite tea.
Stay Hydrated. Being dehydrated can actually make you more tired. I carry a bottle of water or tea with me, to remind me to keep drinking it throughout the day. My travel cup keeps my tea piping hot, so I can enjoy it on-the-go… which I always am.
Plan Ahead. Digital, paper, whatever works for you; write it down & get organized. Once you get it all down, you may realize that you've over-extended yourself. Prioritize and cut back if need be.
I always feel more in control when I have my week/month planned out, as best I can. Obviously, things change day-to-day (especially with young kids!) but I feel so much better when I time-block out my weeks and see that everything has a place on my calendar.
Prioritize Sleep. I get it, busy moms don't get much sleep. However, there is always some improvement that can be made in this area. Maybe you could switch off early morning dog duty with your spouse so you can get an extra half an hour? Or grab a nap on a Sunday afternoon? If not, maximize the sleep you do get– read a book or do a quiet activity a half an hour beforehand, and relax with a soothing cup of Bigelow tea.
Preventative Care. Sometimes we moms just need good reminders to take care of ourselves. During cold and flu season, wash your hands, take vitamins (or eat them via fruits & veggies), and stay active to keep your energy levels up. If you live in a frigid winter climate like me, try an indoor exercise subscription or go walking with a friend at a local park district track. Both are inexpensive options to keep your body in motion, which leads to more energy.
I hope these ideas inspire you to take of yourself during the draggy, winter months. Anytime you need to catch your breath, I encourage you to take a moment and enjoy a cup of your favorite Bigelow tea. Iced or hot, it's just the thing to get a busy mom back on track. Happy Hot Tea Month!
Want to know more about how busy moms stay well? Check out this article– What Self-Care Looks Like.
Check out Bigelow Tea at Walmart, where you can see the huge selection of Bigelow brand teas.

Or get social!
Bigelow Tea: https://www.facebook.com/bigelowtea
https://twitter.com/bigelowtea
https://www.instagram.com/bigelowtea/
#TeaProudly #Sweepstakes (1/16 to 2/28)
I'd love to know, what's your favorite flavor of Bigelow tea?