This shop has been compensated by Collective Bias, Inc. and its advertiser. All opinions are mine alone. #MyLiteracyStory #DGMyStoryEntry #CollectiveBias
Gather around! Inspired by the Dollar General Literacy Foundation, I'm sharing 8 engaging read aloud books that both big and little kids can enjoy *together*.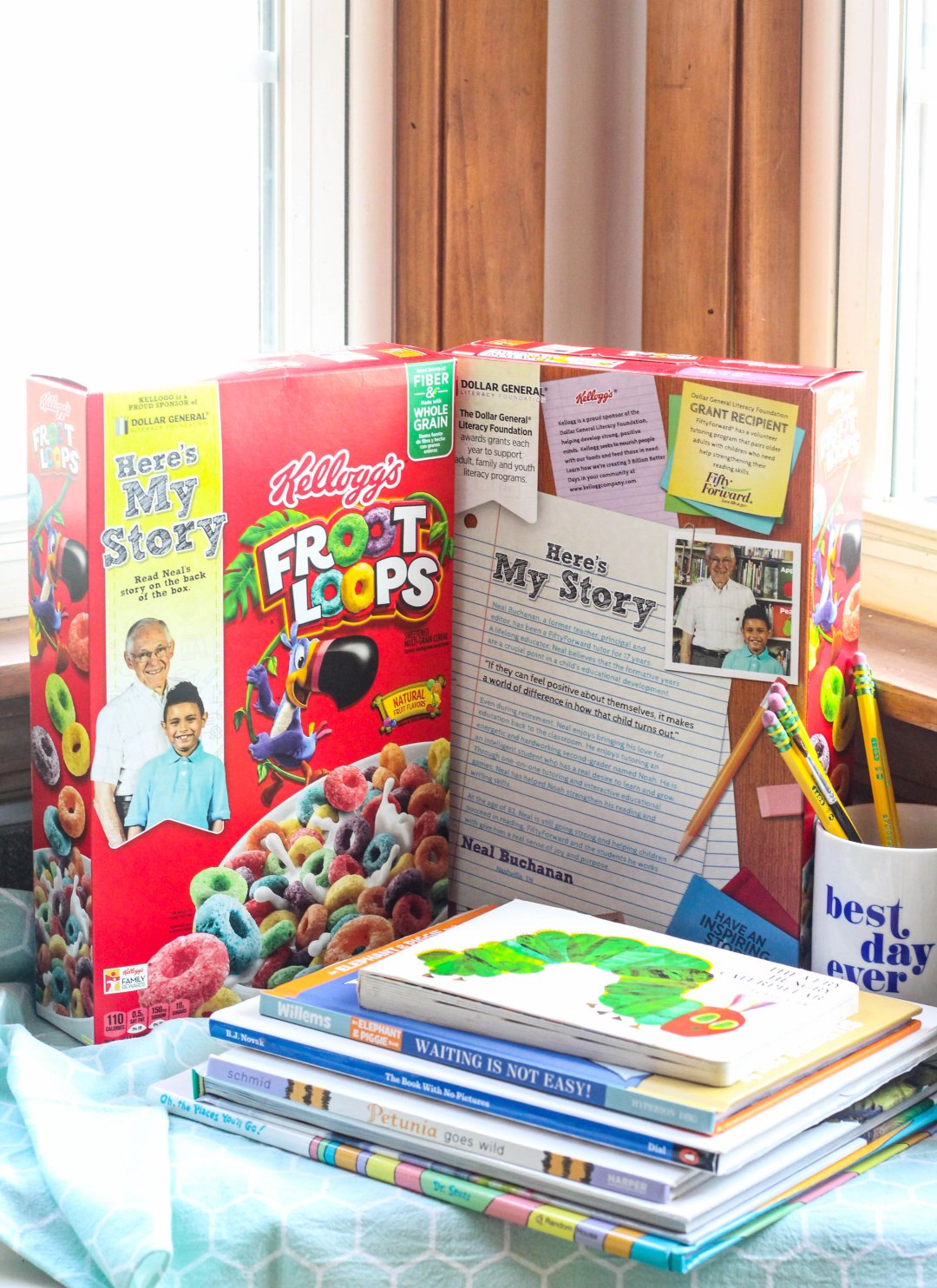 Hover over the image above to shop for Kellogg's!
Kellogg's and Dollar General are joining up to promote literacy and shine a light on how reading can enrich lives. As a former Language Arts teacher myself, I have seen firsthand how reading and language skills have the power to shape a person's future. This an issue close to my heart, so I'm thrilled to share the Kellogg Literacy Initiative with you.
Kellogg's is a proud sponsor of the Dollar General Literacy Foundation, and they are committed to enacting positive change through their products that people enjoy everyday. Kellogg's is working towards 3 billion Better Days through 2025 with programs that help people and make a positive impact on their lives.
They have partnered with Dollar General, a company committed to delivering value to its customers, to support the Dollar General Literacy Foundation in its mission to serve others. The Dollar General Literacy Foundation has accomplished over 20 years of helping people in literacy-related services, such as learning to read, learning English, and/or studying for the high school equivalency.
This foundation is changing people's lives and I'm excited to be sharing this program with my family and audience! Inspired by the Dollar General Literacy Foundation's focus on reading, I'm sharing our favorite read-aloud books. They're also known as "curl-up" books… like curl-up and get cozy. Sounds lovely, right?
I have two girls, 3 and 8, who both love books. There is a significant age gap there, and the 8 year old has been reading on her own for years now. However, all kids love when a book is read out loud to them, and I really enjoy picking out hardcover books that both girls will enjoy.
8 Engaging Read Aloud Books For All Ages
Oh, The Places You'll Go! Dr. Seuss– a classic, for sure. Big kids will get the message, while little kids love the rhymes and pictures.
What the Dinosaurs Did Last Night Refe & Susan Tuma– such a fun book. Photos of toy dinosaur in different scenarios that happened overnight (similar to "Elf on a Shelf"). This book may even inspire your own kids to set up their own dino scenes!
The Book With No Pictures B.J. Novak– That's right, no pictures, but plenty of words and laughs. A super cute book that's sure to bring giggles.
Waiting Is Not Easy! Mo Willems- all kids seem to enjoy the adventures of "Gerald" (the elephant) and "Piggie". There are plenty in the series, including stories starring a pigeon character. All are adorable and fun to read.
5. Katy Cat and Beaky Boo Lucy Cousins– I wanted to include the outside & inside of this book to show all the flaps. It's the best part of this book and the reason all kids enjoy it.
6. Petunia Goes Wild Paul Schmid– a bit more of a story here, but one that's easy to follow. Petunia would rather be a wild animal than a little girl. Both my kids just loved Petunia and her wild ways.
7. Dear Zoo Rod Campbell– lots of flaps here, plus fun animal noises
8. The Very Hungry Caterpillar Eric Carle– Eric Carle books are very popular, and for good reason. The stories and beautiful pictures engage all ages. Both kids and adults will love this classic.
When's a good time to read aloud? Anytime! We love bedtime, of course, but breakfast is also a nice time to share a book. The kids can enjoy a bowl of Kellogg's® Froot Loops® Cereal– their favorite!– and I read a couple books to them. It's a fantastic way to start the day.
Love this list of engaging read aloud books? Check out more reading inspiration for kiddos!
We also enjoy Kellogg's Frosted Flakes®, Kellogg's Frosted Bite-Size Mini-Wheats®, Kellogg's® Rice Krispies® in the morning. It's nice to have some variety!
I love that I can buy my family Kellogg's cereals and support such a great cause. It really brings the program full circle for me.
Learn more about the literacy initiative HERE. Be sure to enter the #DGMyStory Sweepstakes with the hashtag #DGMyStoryEntry and share your own personal literacy story for a chance to win a $50 Dollar General gift card!
I'd love to know, what inspires you about the Dollar General Literacy Initiative?